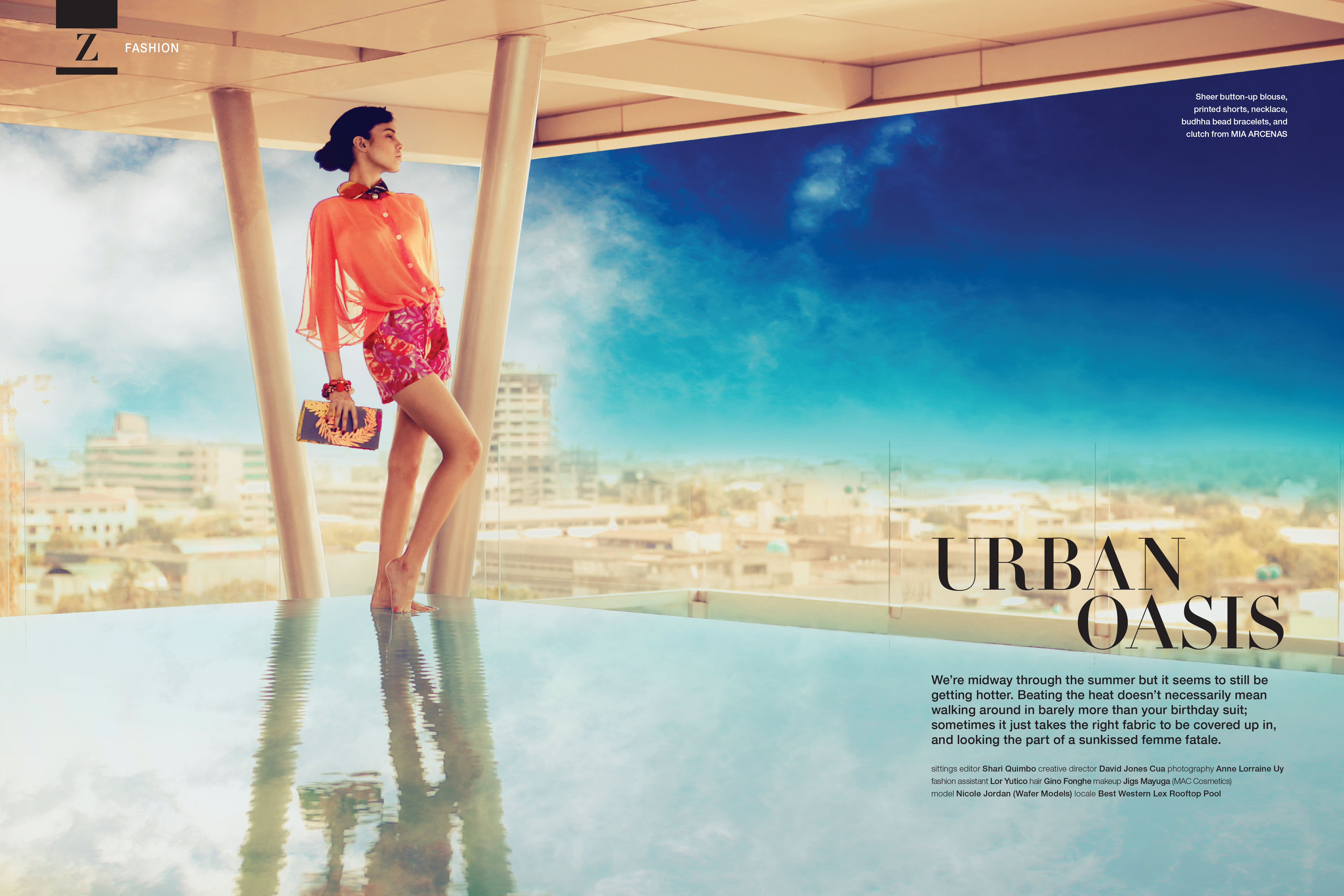 Zee Lifestyle May 2013 Fashion Editorial: Urban Oasis
Last year in the summer, I was tasked to shoot another fashion editorial for Zee Lifestyle under the creative direction of David Jones Cua. If you've been following my work, you might remember that I've praised him over and over again on my blog every time I work with him to shoot for the magazine. He has a brilliant, young creative mind and it's a breeze to collaborate with him; I usually end up surprising myself with what I was able to accomplish in terms of artistic photography when I take on a project that's spearheaded by him!
That being said, I miss these kinds of photoshoots… *sigh*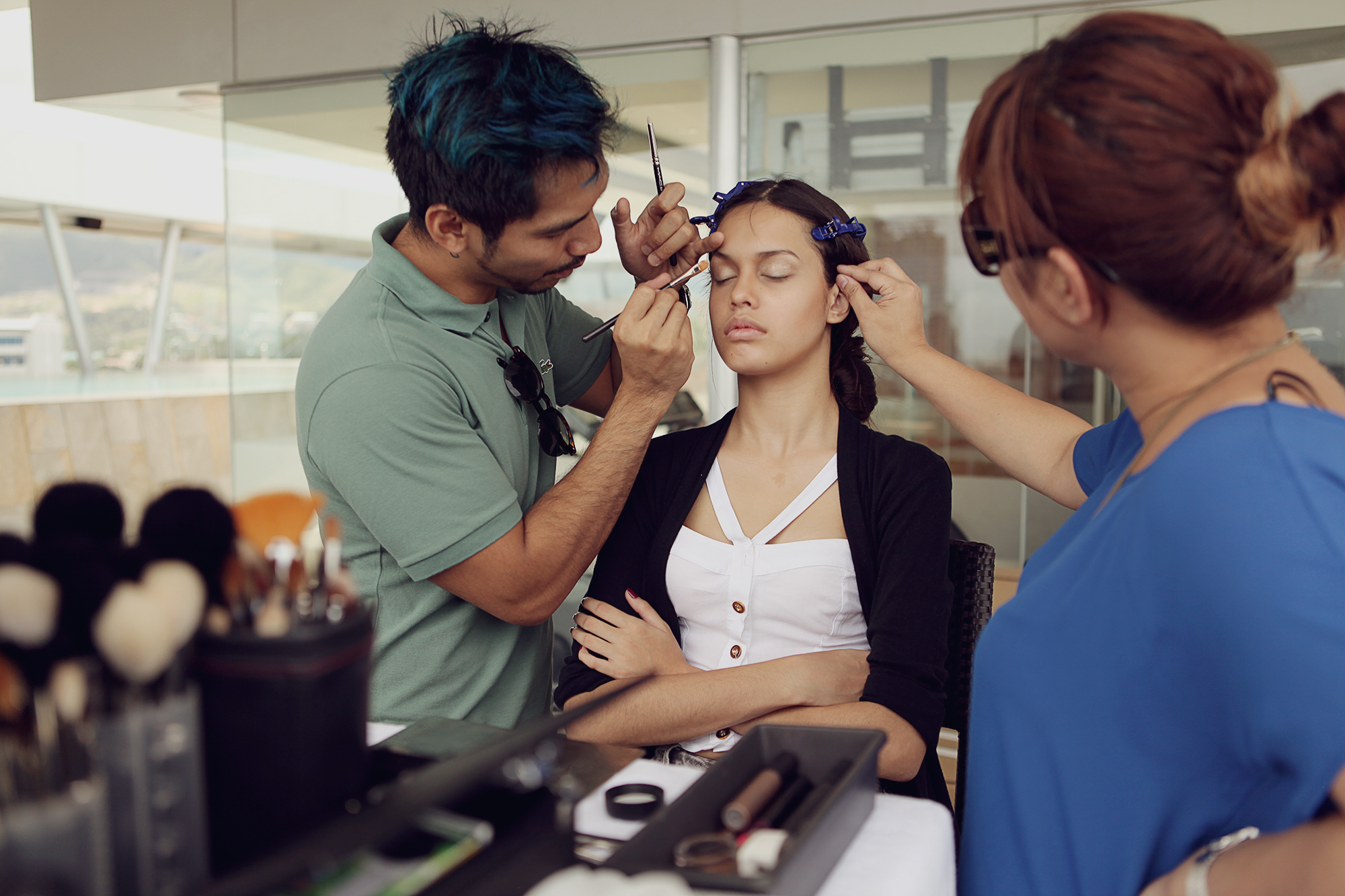 The famous celebrity MAC makeup artist, Jigs Mayuga, and his assistant, Pong Niu, doing their magic on Nicole from Wafer Models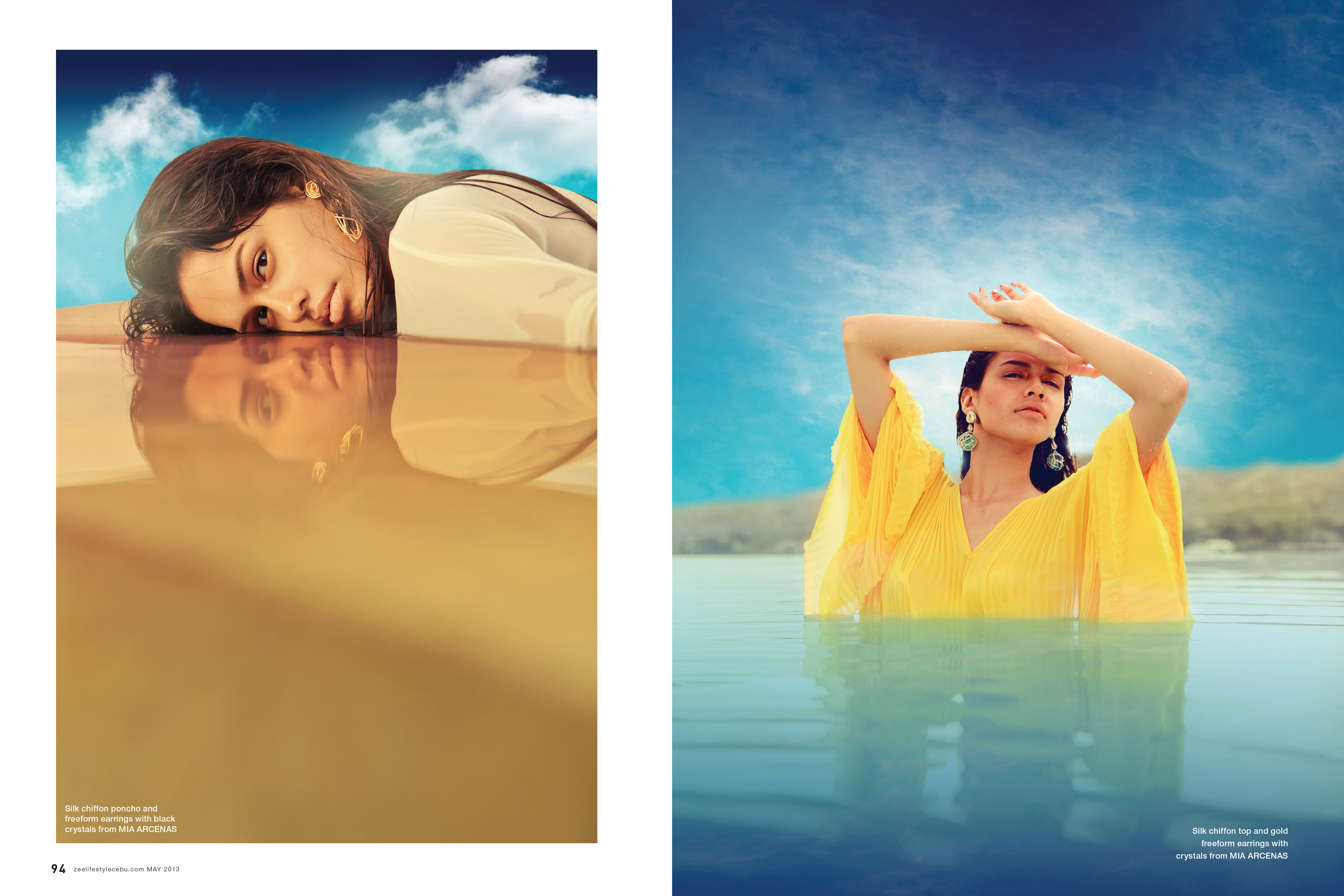 Jigs is truly a master of his craft, just look at how subtle and translucent, but beautiful the makeup turned out making it look so natural. Makeup that doesn't change the face, but enhances it.
It really impressed me how he and the whole team were so proactive throughout the photoshoot, making sure to check and retouch makeup details here and there, wipe off sweat from Nicole, fix up any strays from her coiffed hair, and even helped with the fit of her clothes. True professionals. I'm hoping to work with Jigs again in the future if the opportunity comes… Because really, who can forget those aqua streaked / electric blue highlights?
We shot at the infinity pool of Best Western Plus Lex in Escario, Cebu, thanks to Ryan Tanchan the hotelier. It was a hot day, as usual in Cebu, which made for the perfect condition in achieving our theme for the photoshoot. Can you guess what it is from the shots?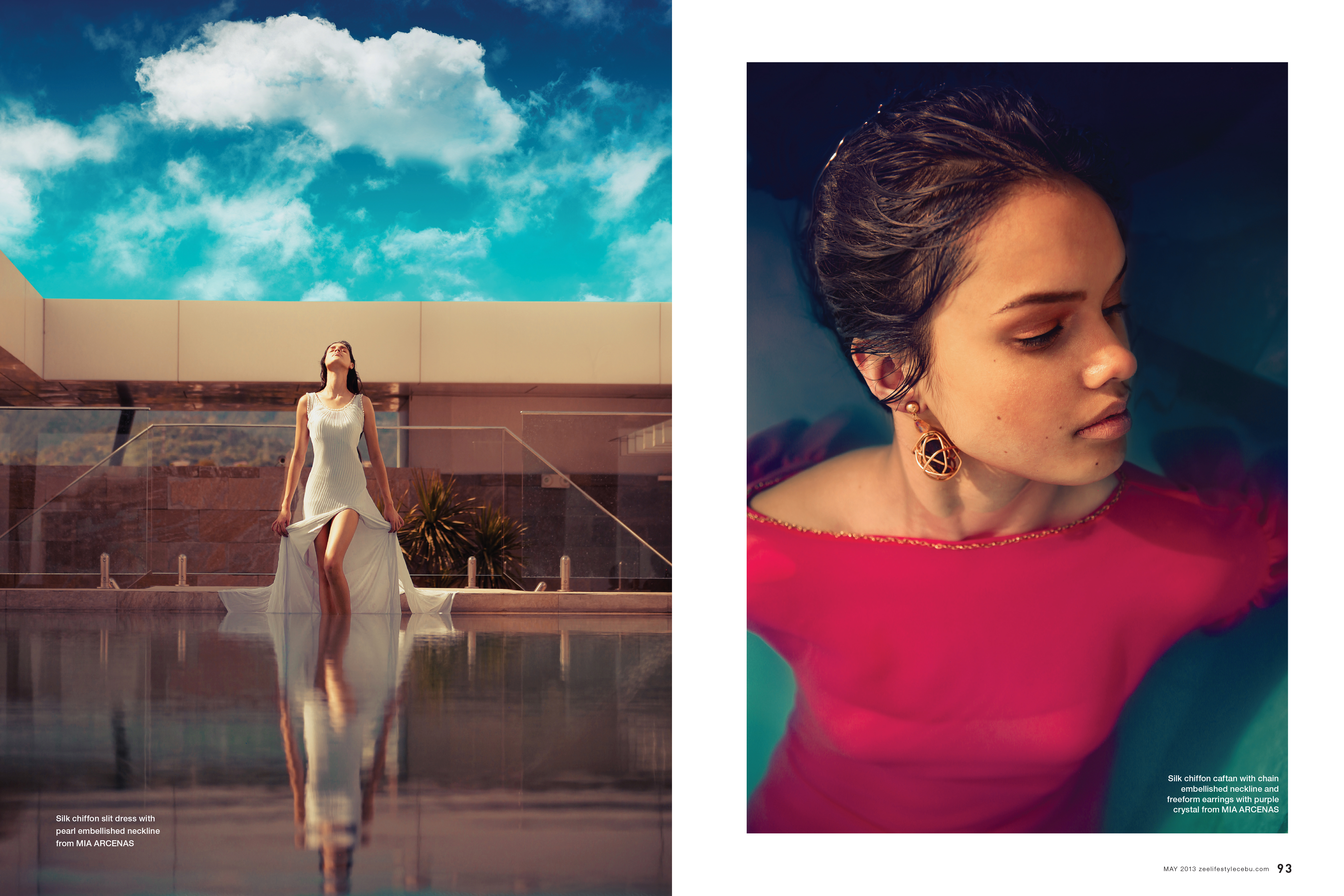 Well yea, the title did give it away….
This fashion editorial was inspired by desert oases (did you know that the plural form for "Oasis" is "Oases"!? lol sorry, logophile moment)! David particularly stressed how important it was to have that "desert sky blue" in this editorial. I also made sure to emphasize the golden yellow tones of the desert. Side note: as I composed this blog post I always spell "desert" as "dessert" first. Mmm.
Sven Chua, headhunter for Wafer Models Philippines, talking to David Jones Cua, Zee Lifestyle Youth Editor
 Pong Niu retouching Nicole. This photo struck me when I saw the thumbnail. Nicole's strong features remind me of those old Greek statues of women (but of course thinner). It's not a surprise that models look like heavenly beings I suppose.
And guess what, I think she was just 16 years old when I took these photos. I don't know why I'm always surprised at how my Caucasian-Asian models look so mature for their age. Then again, it's common for models to start their careers at 16.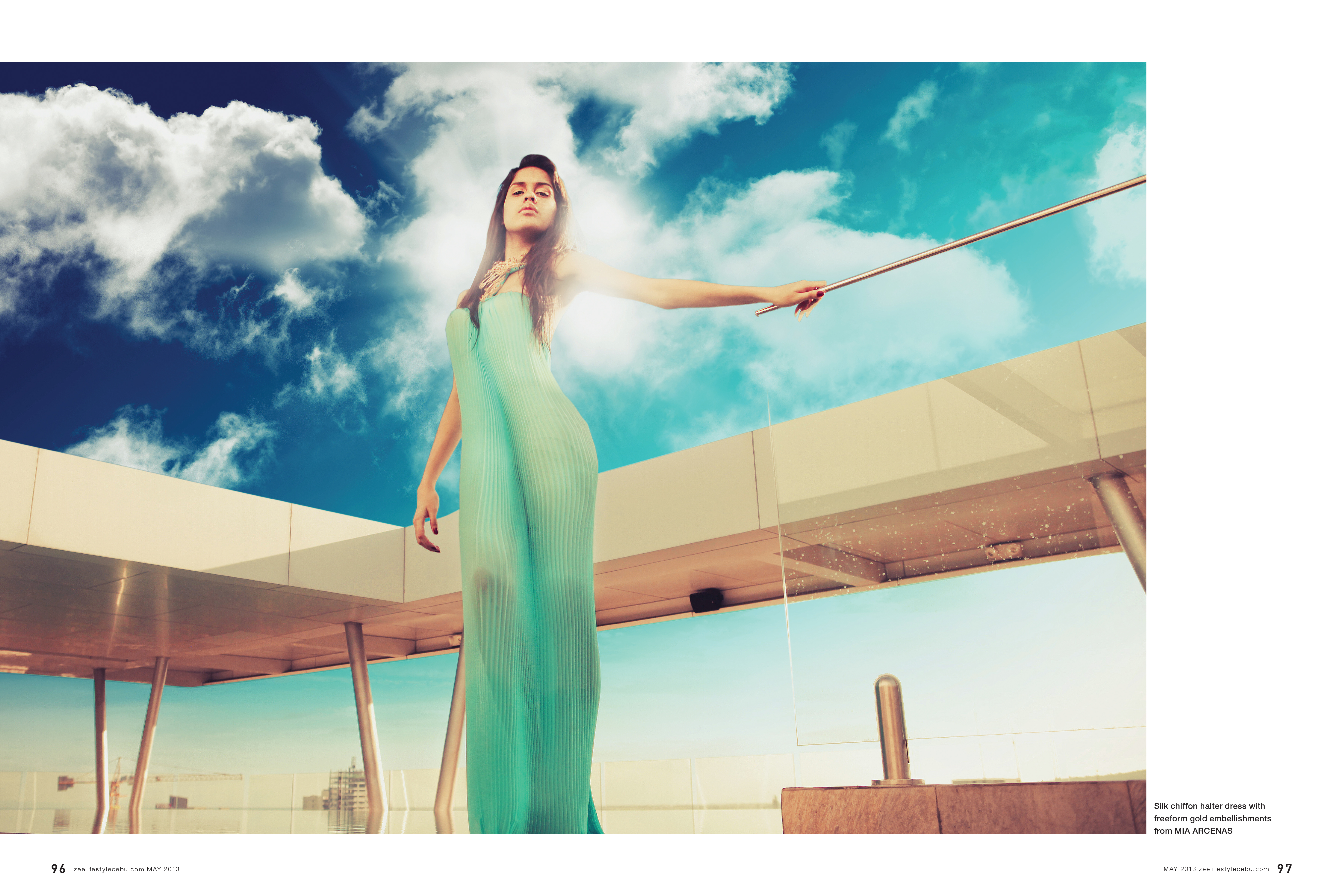 For that last layout, Nicole's dad arrived and acted out the supportive father role, even making fun of her and joking around. It's unusual that I see fathers who are supportive of their young daughter's modelling careers. Most of the "uncles" I know would keep their daughter in a closet and single for life if they could (but that's a secret they would never tell).
This is an example of how I would be willing to do absolutely anything to get that perfect shot. Even risking serious injury by standing on a high ledge? lol.
But as with all productions, safety measures are taken into account: David held one of the belt loops on my pants and Ryan supervised the model.
Sittings Editor: Shari Quimbo
Creative Director: David Jones Cua
Photography: Anne Lorraine Uy
Fashion Assistant: Lor Yutico
Dresses and accessories: Mia Arcenas
Hair: Gino Fonghe (Matrix Professional Hair & Color)
Makeup: Jigs Mayuga (MAC Cosmetics) assisted by Pong Niu
Model: Nicole Jordan (Wafer Models)
Locale: Best Western Plus Lex Cebu Rooftop Pool