Jean Escanillian and Sean Genon in Sumilon Blue Water Island Resort
Last year in the summer, I was privileged enough to be chosen as the engagement photographer for Sean and Jean. Jean contacted me all the way from Dubai a year before this as I was recommended by her sister. We Skyped a few times and I sent them mood boards, pegs and contracts online (I was so proud to be able to make and send my own e-contracts online! Felt so legit. lol).
This was another photoshoot wherein I had to do styling as well as photography, but since I wasn't available to shop with them nor could I pull-out clothes myself, I just sent them styling pegs. In my opinion, it worked quite well. They brought suitcases of clothes and accessories! Apparently Dubai is a great place to shop!
Like with many of my shoots, Raisa did the makeup. May I say, she's definitely one of my favorites to work with! I totally slept while she did makeup coz I had 101% trust in her to fulfill my concept. She never disappoints and I'm always impressed (really, I'm not exaggerating). When it comes to my shoots I tend to be finicky and meticulous, hovering over the make-up artist and overseeing the work … Even here in Vancouver for my school work I noticed this trait, because my classmates accuse me of being a "perfectionist". But honestly I don't feel that way! I just can't stand half-baked work, especially if it comes from me (perfectionist? naah :P).
On the first day of shooting, Jean was literally shaking with nervousness as I directed her poses. I calmed her down by letting her shake off the nerves, lightened the mood and told them both "Just have fun!". I love how these shoots are all about the couple! I always want them to feel special and beautiful when I'm photographing them. Photoshoots may sound very serious, but for engagement jobs I always try to create the atmosphere that it's more like I'm-a-friend-just-taking-couple-photos for you! I guess it helps that I tend to smile a lot, and I look like a teenager instead of a professional photographer.
As you can see, they explicitly requested that they didn't want the usual lovey-dovey engagement photo session style. "No holding hands while smiling at each other on the beach"! Otherwise popularly known as HHWWPSSP, kids. They wanted something "sexy and edgy", like something out of a magazine editorial. They also stressed that the reason they picked me was because of my "storytelling" style. They wanted a photo session that wasn't just full of poses, but one with a background story. I'm glad (more like relieved) to say they liked the output! It was a pleasure shooting a couple that was already good-looking to begin with. Makes my job easier haha.
AND THEN AND THEN GUESS WHAT. Sean had a surprise for Jean! You know how a lot of marriages these days are more like agreements, right? Like "hey, let's get married! Oh, okay! *officially engaged*" Some men have thrown chivalry and romanticism out the door, but others are still playing old-school and it's always a nice surprise. Makes me feel all warm and happy inside. Anyhoo–yes, I'm talking about the ol' bend-the-knee proposal.
Jean was happy enough without an engagement ring, but Sean went all out and surprised her during the photoshoot so that I could actually document his proposal! Sneaky genius.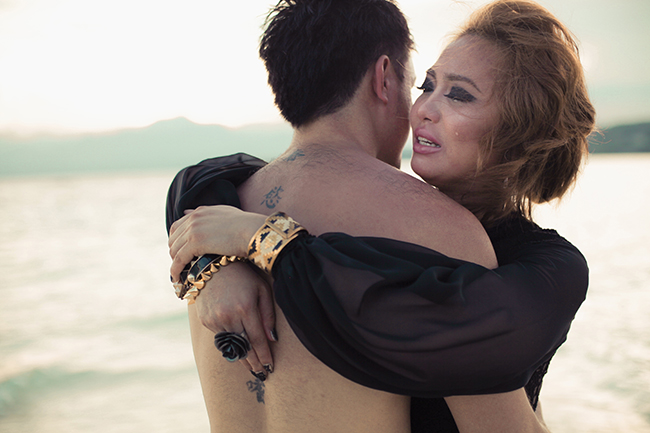 I'd like to thank Sean and Jean again for the opportunity! Wish I could have attended your wedding last Valentines day. This was such a fun workcation for me and Raisa.
I've been to Sumilon prior to this shoot and it's definitely a nice place to relax and enjoy the pure beach air, especially if you're into secluded island getaways.