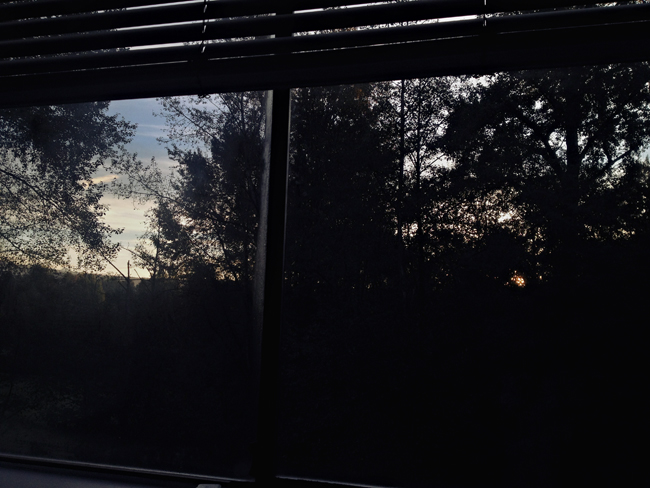 The sky greeted me with gentle fog from the cold, and soft sun rays peeking through the trees on my birthday. I always go up my window every time I wake up to a new day. Today, I felt that God greeted me warmly just like every year.
Aha. Thought I'd given up blogging, eh? (Eh?! What a Canadian thing to say..)
As much as I fall back on blogging regularly, I'll always try to exert more effort on writing a birthday post. Looking at my life in retrospect, both birthdays and new years list, helps me appreciate the choices I've made, the hard work I've done, the blessings I don't deserve, and the future to look forward to. You can say that doing this routine has made me stronger as a person (self-realization is a big thing for me). It helps me be more optimistic even when life gets hard.
Compared to last year, my spirit is in much better shape now. I finally did what my heart sought to do. This is it. What I pined for and prayed for fervently. Where I saw myself since I was 20 but failed to do when I was 21. Now I'm 24 and it's real. Sometimes I still can't believe I wake up to my favorite sight of trees every morning. I'm so happy. God is so good. Life is wonderful when we make it to be.
I went to school thinking nothing special about today. I was content waking up and having good weather, stopping to admire the trees and flowers, and laughing at the squirrel who always thinks I'd steal its acorn. I smiled thinking about my successful attempts at making my breakfast Almond Milk and Fruity Oatmeal and Potato Salad with Honey Vinaigrette to pack for lunch. Fritz leaves me sweet messages to read and greets me in Philippine time and Canadian time. I'm again deeply thankful for him being part of my life once again. Also worth mentioning  is my cute dad who greeted me not one, but three days before my birthday! Haha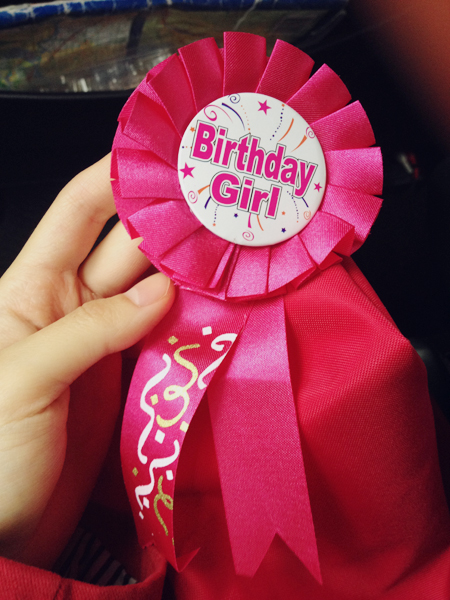 When I arrived at school, some of my classmates greeted me and my girl friends gave me a Birthday Girl ribbon, which reminded me of what my mom let her dog wear on its birthday. Haha! Classes proceeded as usual and ended with an in-class exercise which gave me a headache. I'm not sure if it was the huge iMac glare or all the making up stories I had to do in that particular exercise for Personas and Profiles. Ironically, Storytelling class is one of the most challenging for me…
I got a call that I needed to pick up a package at the Housing Office. I was thinking it was most probably Fritz' birthday gift because he told me to watch out for it and showed me the package a few days ago. When I got to see what was waiting for me, I was totally confused– it was a gift basket! I asked the office if it was from BCIT or something, but no, it was actually from a person who posted it to me. I inspected the basket and was surprised that everything was what I needed. It was actually my type! Haha, things that I'd totally like. So I was thinking… This person really knows me. Hmm.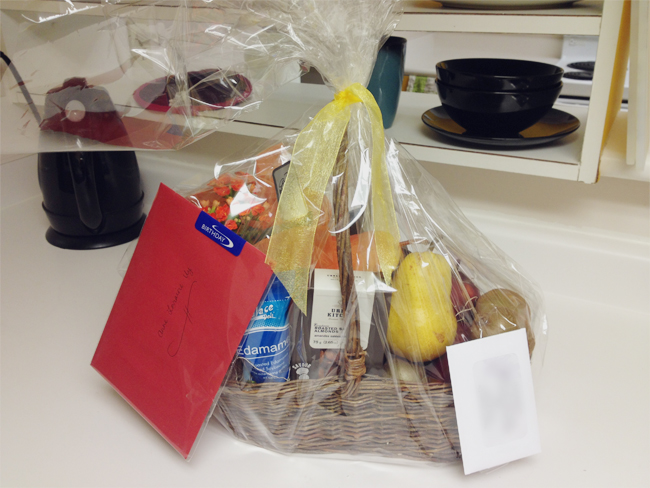 And then I opened the card. Oh, what a surprise. It's from my mom! She contacted the best florist in Burnaby to send me a birthday gift. So sweet of her to surprise me like this. T_T
We went to the mall since it was still too early for dinner. I needed measuring cups and spoons because I plan to make home-made granola tomorrow (heehee). My friends then surprised me with a birthday balloon!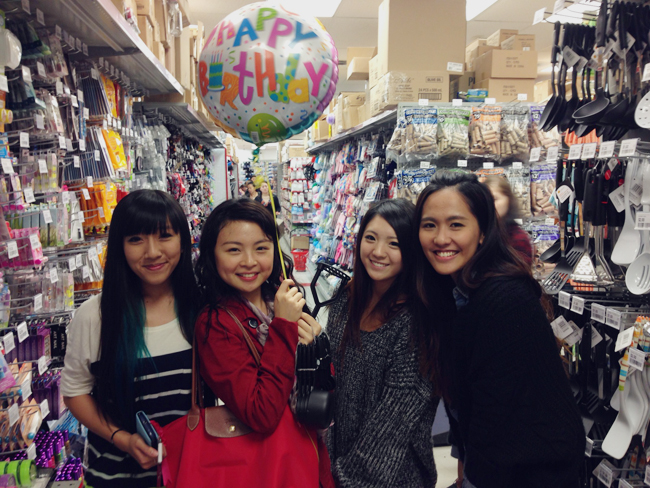 Such an AWWW moment… T_T The best part about this is that Christina took a video which ended up being really funny since they showed how sneaky they were. I tied the balloon onto my bag as I walked around the mall. I think I looked a little funny dressed up all red with a birthday balloon with me. But it was worth it because we got free chocolate at Purdy's when the lady saw my birthday balloon. Unexpected free food is always welcome, especially when it involves birthdays. Makes it twice as special.
We then ate at a Korean restaurant because I was craving for bibimbap. My friends treated me out! After dinner, I treated them to ice cream bars before the mall closed. Christina gave Instax pictures for me to remember today. First time I've seen these rainbow polaroids. So pretty! These are going in my box of memories where I keep letters, photos and other memorabilia.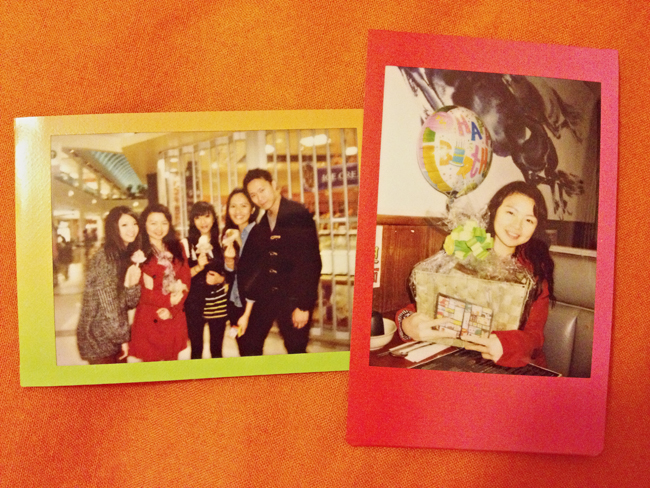 My friends gave me a basket of things, all that I think are so essential in my life right now. Like a 500 Quick Meal recipe  book (I'm always scrambling when I cook coz I'm so new at it), bath stuff (just in time! don't need to run for shower gel tomorrow haha) and popcorn with a red Maple Leaf chocolate loli as a welcome gesture to Canada. They didn't even know how much I loved popcorn, what a coincidence!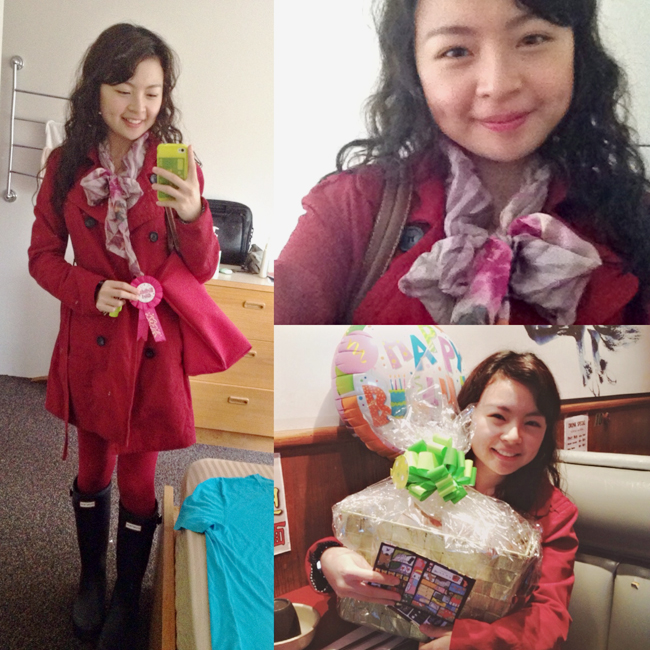 Please excuse my room. It's not really messy but it just looks that way. That blue shirt is Fritz' which I use as a pillow every night. Its an iconic shirt he always wore when we first went out as friends. It's too small for him now so it actually fits me better. You can see where I put the ribbon on! They told me to wear it on my chest but.. No way, BCIT isn't Disneyland. I'll look crazy. lol.
I initially planned my outfit differently but ended up wearing all red today. My family would be so pleased. Chinese believe wearing red on your special day brings good fortune and happiness. One time going back to my dorm, a student called me Red Riding Hood and pretended to be the Big Bad Wolf. /so random
Overall, I was so overwhelmed because I didn't expect anything special to happen today. But it turns out that this birthday is one of the most memorable ones. Thank you to everyone who greeted me and made it special! Especially my new friends here in Vancouver for the warm welcome.
I'm off to meet one of my favorite people for some belgian waffles at Nero's. And then I'll be hitting the books and working on the deluge of projects and assignments… booo.